1.
Graphic tees. I know there's chatter about them here, there, and everywhere, but I'm going to go ahead and add to it. :) Tees are so comfortable and I like the (inexpensive) interest a graphic adds to an outfit; below are some of my favs (all on sale for Labor Day):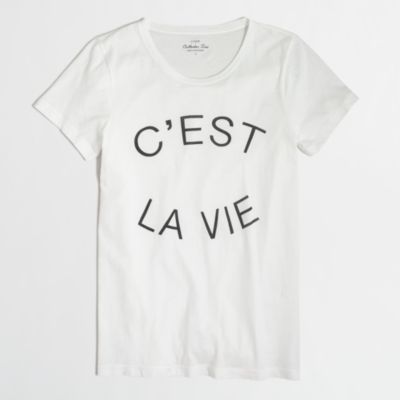 One, two, and three are from Old Navy, the fourth is from J. Crew factory.
2.
Tim said he had a dream the other night that he woke up and I was holding the newly delivered baby in my arms. Dreams are such crazy things! We still have to get through two house closings, Evie starting preschool, and moving, so I am hardcore hoping this baby doesn't come before her due date!
3.
I've made this biscuit recipe twice this week- only 3 ingredients! Self-rising flour, coconut oil, and coconut milk. Boom.
This pict. was from my first attempt- I made sure to spread the dough a little thicker and use a smaller biscuit cutter the second time around, so batch #2 looked a smidge better. :)
4.
We've had the most beautiful weather this week. I'm not ready to bid summer adieu yet, and am loving every day of heat and sun while it lasts!
The girls and I went to a local farm market on Monday where they fed some donkeys- or "horses" as Audrey insisted.
At what age do kids usually learn to swing on their own? I'm looking forward to that age.
5.
Then on Wednesday we went to a place recommended by a friend- if you live in the NoVA area you should check out Great Country Farms! It's a great place for younger kids- a few play areas, fruit picking, an animal farm, huge barrel slides, cow train, etc. The only thing I would suggest is looking online for some kind of discount special, as the admission is a little pricey.
Corn crib:
Huge inflatable jumping "pillow":
6.
And right across the street is a winery for the adults after a day at the farm. ;) We just drove up for the view but I would not mind at all coming back some time.
7.
Also, if you could offer up a prayer for some family friends my family has known for ages, it would be much appreciated! One of their sons (his name is Scott) just died in a car crash, and he and his wife have 4 kids with #5 on the way. I can't imagine their grief, so please pray for the repose of his soul and for the family to be enveloped in God's peace and love.
Linking up with Jen for the usual Friday takes. Have a good one!